"Finally, be strong in the Lord and in his mighty power. Put on the full armor of God so that you can take your stand against the devil's schemes. For our struggle is not against flesh and blood, but against the rulers, against the authorities, against the powers of this dark world and against the spiritual forces of evil in the heavenly realms. Therefore put on the full armor of God, so that when the day of evil comes, you may be able to stand your ground, and after you have done everything, to stand. Stand firm then, with the belt of truth buckled around your waist, with the breastplate of righteousness in place, and with your feet fitted with the readiness that comes from the gospel of peace. In addition to all this, take up the shield of faith, with which you can extinguish all the flaming arrows of the evil one. Take the helmet of salvation and the sword of the Spirit, which is the word of God. And pray in the Spirit on all occasions with all kinds of prayers and requests. With this in mind, be alert and always keep on praying for all the saints."
–
These verses of Ephesians were recently posted by the now infamous character known as "Q" or "QAnon". Q stands for Q clearance, and Anon for anonymous, because nobody knows who he is.
Q is said to be a government or military insider, someone very close to the POTUS who claims that he is covertly working to put an end to the rampant corruption in our country, especially that dealing with human trafficking. Some people think it's Trump himself.
To quote from The Book of Q, this anonymous figure "is either the biggest intelligence drop from the U.S. government to the American public ever, or the longest lasting "LARP" (Live Action Role Playing, aka prank) on the 4chan message board, ever. As all of this evolves, it is clear that whoever this Q character who is dropping this info may be, his statements, questions and insinuations paint a compelling picture: a world about to be set free from the grip of a global cabal that includes corrupt establishment politicians, the CIA, banker families and royal dynasties."
What began as a series of anonymous postings on October 28th 2017, quickly turned into a massive conspiracy that some are calling theory, and others are calling fact.
What I do know, is that Q is right about one thing.
Some Recent Headlines:
Dojo Pizza raided in alleged human trafficking ring
Oct 23, 2015
http://www.kmov.com/story/30336833/dojo-pizza-raided-in-alleged-human-trafficking-ring     (backup) http://archive.is/uFpzu
Child sex trafficking – as easy in Seattle as ordering a pizza
APRIL 13, 2017
http://mynorthwest.com/5349/child-sex-trafficking-as-easy-in-seattle-as-ordering-a-pizza/  (backup) http://archive.is/mVAEz
Human trafficking: As easy as ordering a pizza
June 6, 2017
https://www.cincinnati.com/story/opinion/contributors/2017/06/06/human-trafficking-easy-ordering-pizza/371076001/ (backup) http://archive.is/LP7oq
PizzaBrain – Philadelphia, Pa
Here is the very first picture uploaded to Pizzabrain's Instagram. Notice what the second comment says. Who wants a pizza for an hour? It doesn't make any sense unless he is talking about something other than pizza. 
See the rest of the disturbing photos that I pulled off their page here.
Little Baby Ice Cream
Watch this video from their youtube channel and ask yourself it is appropriate for a business that caters to children.
This place is adjacent to Pizzabrain. Their Instagram pictures are also very disturbing.
http://pizzagateblog.blogspot.com/2017/03/is-there-connection-between-ice-cream.html
The Spiral-Swirl Connection
One thing that pizza and ice cream have in common is that children love these foods. Back when I worked at a pizza parlor years ago, the owner taught me how to apply the sauce to the dough.  You basically take a ladle full of marinara and put it in the middle, then you swirl the sauce in a spiral towards the outside. This is similar to the swirling pattern you use when loading soft serve ice cream to a cup or cone.
While this may be purely coincidence, I thought I'd point it out in case it has some connection. P.S. One of the delivery guys at that pizza shop I worked at always seemed very creepy to me, and years later when I loaded an app on my iPod touch, I found he was a registered child sex offender. Go figure.
Goat Hill Pizza
Taken from this Voat article: "On the US government's Californian secretary of state site (http://www.sos.ca.gov/administration/)) can be found a "LIST OF ELECTED CANDIDATES FOR THE NOVEMBER 2, 2004 GENERAL ELECTION". See it here: https://archive.fo/C8LxP. Go down to page 2 to find Nancy Pelosi's contact details. Her email address is listed as "PHILIP@GOATHILL.COM"
Nancy Pelosi is definitely affiliated with this pizza parlor in San Francisco.

Roberta's Pizza
This place is super creepy. Voat has exposed their sexual perversion as well as connections to the Clintons. 
Here is a collection of pictures I took off of their Yelp page.
Nalu Diner
As pointed out by other researchers, Nalu Diner also appears to have connections to this massive world-wide conspiracy. Their motto on their logo "kindness" is a hint.
Just a few days ago, in late May of 2018, a group of veterans found what appears to be a bunker for abducted children in Tucson Arizona. It was found on the property of Cemex,a global building materials company.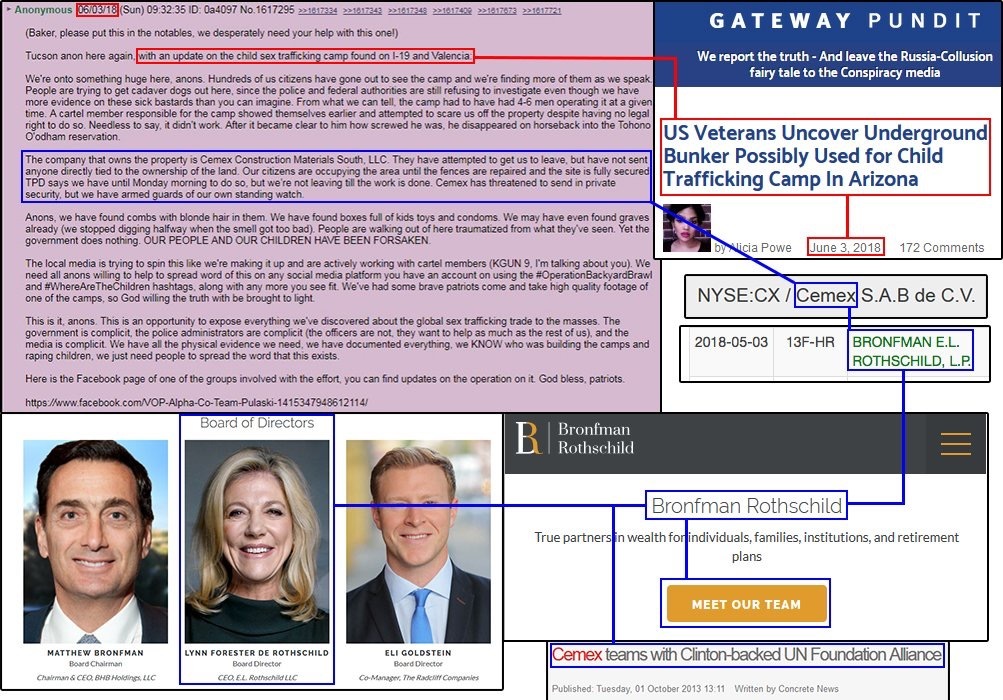 https://steemit.com/informationwar/@richq11/tucson-child-trafficking-camp-cemex-clinton-foundation-rothschild-ties
https://medicalkidnap.com/2018/06/04/breaking-vet-group-finds-pedophile-child-sex-camp-near-tucson-local-law-enforcement-refuses-to-help-as-tensions-rise/
Some Essential Videos:
The Unanswered Questions by Titus Frost
It seems the work of investigators is slowly paying off. These sick individuals are being exposed and charged for their heinous crimes.  Convicted pederasts like Epstein, Hastert, Polanski serve only a year in prison (if that) for permanently destroying children's lives. If it was up to me they would all get capital punishment.
More Links:
Mom Horrified After Finding Symbol Linked To Pedophilia On Child's Toy
https://www.huffingtonpost.com/entry/pedophilia-symbol-on-toy_us_56e6c6bbe4b0860f99d98178
Infographic zoom in
http://kundaliniandcelltowers.com/pizzagate-infographic-nimble_navigator14-2016.png
Zoom in:
http://kundaliniandcelltowers.com/pedophilia-and-spirit-cooking-political-connections-2016.jpg
http://kundaliniandcelltowers.com/who-is-caris-james-pedophilia-dress-bruises-under-eyes-bdsm-electrical-tape.png
http://kundaliniandcelltowers.com/podesta-pizzagate-pedophilia.html(full article)
Come and Hear – The Talmud Connection
You are reading Part IV of this Pizzagate/Pedogate Series:
Part I: http://joedubs.com/ping-pong-pizza-pentagram/
Part II: http://joedubs.com/pentagrams-of-pederasty/
Part III: http://joedubs.com/hidden-in-plain-sight-pedogate-part-3/